Our van came with one second row seat next to the sliding door, which we used as a place to pile things. Sadly, one of those things was the birds' cage. For their sakes and ours, we had to find a better solution!
We decided to remove the seat and replace it with storage space. The seat was fastened with 4 bolts that screw into captive nuts located in a track below floor level. Removal is easy! Replace the bolts unless you're working so you don't lose the nuts.
Our AI is a 2014 model. The gray plastic on the bathroom wall conceals the black tank vent and some wiring. The rectangular box below it encloses the black tank. We needed to work around these obstacles when building the cabinet.
We decided to build a base unit at the same height as the black tank enclosure.
The base unit was bolted in place using the seat bolts. We decided this space would make a great drawer for shoes, so we installed drawer slides. Install the slides and the grabber latch before screwing the top on!
At this point, we decided to take a break from construction and do some traveling. We bought an adjustable wire shelving unit and fastened it to the base. The birdcage sat on the top shelf, with storage below. Our experience with this setup convinced us that a cabinet was the right solution.
We decided that the cabinet should fill all of the space between the bathroom and the step and should have some storage accessible from inside and some from outside. Wanting to keep the things that get messy on the outside, we chose to store cables, hoses, and our O-grill. On the inside, we wanted general purpose storage and space for a water jug. This meant building the cabinet in sections.
We built a small shelf to fit around the vent pipe cover, sized for a 1 gallon water jug. The space below would be bird supplies (and maybe a future wine rack).
The plywood was covered with matching laminate (Wilsonart Asian Sand in glossy finish), and the oak trim was stained. Next, a trial fit.
Adding the doors and knobs and a matching solid surface top (Corian Sorrel, now discontinued) completed the project.
The shoe drawer is small but useful.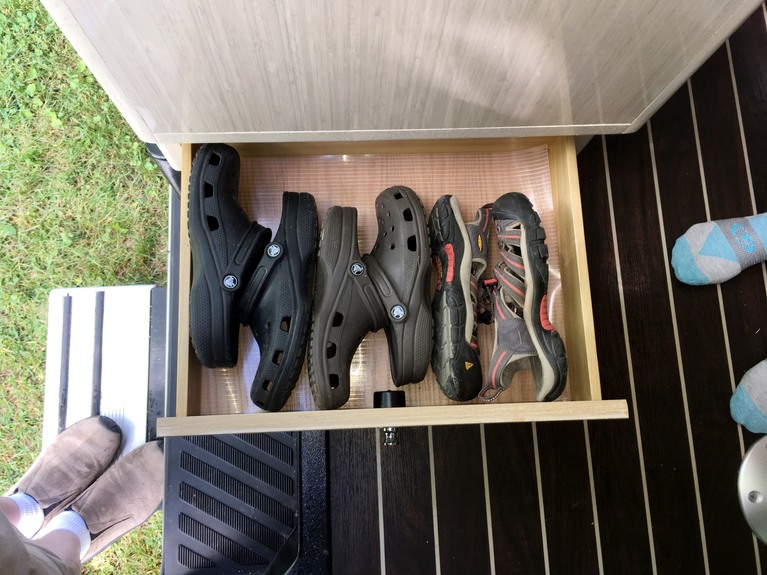 And the outside provides for quick hookups by storing a hose, the electric cable, and various adapters and cables on the shelf above the grill.
Overall, this is a great addition to the van and provides lots of functionality. The birds like it too!